Wildlife Festival ft. boohooMAN
We got Lotan Carter, 'Dreamboy' and general cool guy, to represent boohooMAN at wildlife festival. Keep reading to find out what he wore, who he saw and what his favourite parts of the event were. Handing over to Lotan...

Lotan Carter x boohooMAN
The atmosphere was incredible, the staff were great and people were friendly. I'll try to keep this as minimal as possible but I can't make any promises as I have lots to show you!
Outfit by BoohooMan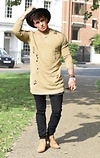 I love a long line fitted top, reason for this is I stand 5″9 with a 44inch chest. I find that long line gives me a leaner look together with the Skinny Knee Ripped Jeans, rather than looking like a meat head! The colour and style combined makes this a key piece in my collection and I'm forever dressing down to dress up, so this Longline Destroyed Jumper combined with the Skinny Knee Ripped and the Chelsea boots were a winner for me, no question.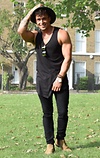 Longline again, this Asymmetric Black vest is simple and well fitted (perfect festival wear) and can easily be dressed up. This item is definitely one of my favourite pieces from this outfit. Summer time I live in vests, so I'm always on the lookout for best fit and style.
Finishing touches
The Acts
My highlight for the afternoon had to be Busta Rhymes! I've always appreciated the talent of the man and it was great to see those ten years my junior having that same appreciation. No joke… it went OFF! His performance was energetic, stage presence was great and charisma was infectious. Buss Buss you owned it!

Going into the evening I was happy to chill, have drink and watch Annie Mac on the Main Stage, blessed by the weather and taking in the atmosphere, totally content as I awaited the headlining act Disclosure.
Nothing short of show stopping, I continuously tried to capture this performance on camera but even with so many pictures I can't depict the electric ambience! Disclosure came on and tore it up for over 90 mins, people were being crowd surfed to the press pit where I was stood. I was hyped, Wildlife festival has made a fan of me. In the words of Paul Weller, "That's entertainment"
I had a great time and it didn't for a second feel like work.

Wildlife ft boohooMAN it's been epic
Lotan Carter
Want more check him out on social