POG-BACK. Paul Pogba's Top 5 Career Highlights
Paul Pogba, The world's most expensive player has returned home to Manchester United. On a massive deal of £93.2 million, Pogba has become the world's most expensive football player, over taking Gareth Bale by a shy £8 million.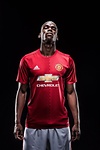 Number 1 : Pogba's move to Juventus at just the age of 19

Number 2: Pogba's Dab went completely viral within a matter of days


Number 3: When Paul was awarded Golden Boy Award in 2013 and Best Young Player Award at the 2014 World Cup.

Number 4 : Paul's best goal

Number 5: Pogba's big return back to Man Utd