In Review: Berlin


Back at HQ and missing the hustle and bustle of buyers and wannabe-types, 'monochrome crowds' and the blogger overcoats!
It was a long, tiring week but yours truly was goin' in, in Berlin, to discover the latest trends for next season.
Heading to Seek, Bright, Premium and Panorama, I managed to get a sneak peak at the latest collections for AW16. The show ran from 19-21st and attracts an international audience, including an array of young, fresh designers.



My aim was to attend as many shows as my legs, and time, would allow! Starting with Seek focusing on contemporary men's fashion & lifestyle brands. Next, I moved onto Bright tradeshow, an exciting venue for streetwear, urban wear and youth fashion, checking out loads of new streetwear, skate and urban brands as I went. Seek and Bright were connected through a shared outdoor space, with a shuttle service running from Seek to its sister show Premium throughout the three days making it really easy to get around. On day 3 I hit up Premium and Panorama. I guess with Premium, the name speaks for itself...luxe high-end brands with a mix of fashion with lifestyle brands too.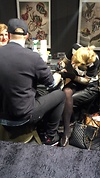 Here's a few tips for survival
1. Take some water!! Gotta stay hydrated
2. Take a notebook, pen and pencil. And don't lose them like I did!
3. Take a backpack (see tip #4)
4. Locate the cloakroom and use it to deposit all your shizzle; merchandise you accumulate (swatches, magazines, lookbooks, samples) throughout the day.
5. Enjoy the refreshments from ALL stands, don't be shy, help yourself and eat. You'll be hungry later!
6. Take business cards, and plenty of them. You'll get talking to the stand attendees and you never know when you might make some contacts and meet some inspiring or important people.
7. Plan your time wisely. Rome wasn't built in a day.