boohooMAN x Kwabs
Get the low down from when boohooMAN met Kwabs, the singer from South London, who describes his sound as 'a meeting place between old school soul and new and modern sounds.'

RJ: You've previously said in an interview that you didn't really have any musical role models growing up; where did you start to find inspiration?
K: I've drawn most of my inspiration from life and then you know, the things I've listened to have been part of that but more than anything it's about the things that I've experienced and I think that's what brings a realness to the music and makes it, you know, me.
RJ: When did you first decide that music is where your heart lay?
K: I think I've always known that music is for me but I don't think I've always known that music was what I need to be doing with my life and as career, I think it's only within the last few years I've realised that I want to use my voice to reach loads and loads of people not just a few. It feels like now is the time where I want to connect with people and reach people.
RJ: You've collaborated with producer SOHN on your early tracks; and Plan B produced Pray for Love; any plans for future collaborations?
K: The next, most important collaboration is one with Disclosure; I've got a track on their album which is coming out in September (25th) and that's actually really really exciting and cool. I haven't done anything like that before, so that should be something that people will look forward to hopefully!
RJ: Who would be your ultimate collaborations past or present/dead or alive?
K: I guess my ideal collaboration would be with one of my favorite singers, probably Donny Hathaway. He died too young and he was so great, I don't think the world got to see how great he really was.
RJ: What's your dream show location?
K: I think some of the best shows are the ones in unexpected places; I love doing big shows but I also love really intimate shows so I guess I'd probably do it somewhere far away from any city and the hustle and bustle and you know, maybe in an old grand house somewhere in someone's front room or something; I feel like that would be cosy and people would feel really included in the show.
RJ: What are your favorite things about London?
K: My favorite things about London is that you, everywhere you turn, you see something new, something different, something different form yourself. I know I have my own bubble, but being in London forces me to be outside of that, all the time and I'm always being confronted with different steps of life and I think that's really important for us. The other thing is the food! Haha! I really like to eat... Who doesn't! London has some of the best restaurants and I'm very fond of that!
RJ: Hailing from a fashion capital, do you think your city influences your style?
K: I guess when I look around I see people who are incredibly stylish all the time; I think that probably inspires me to have a sense of what it is that represents me, I feel like clothes are a way of self-expression so I like to access that if I can and just try to be myself you know. Everywhere I look I see people being themselves and I think that's a very inspiring thing.
RJ: Describe your style in three words
K: My style is… simple, ha, practical, but with, a little flair.
RJ: What's on your tour bus playlist?
K: A lot of pop. 90's pop. The kind of pop I was listening to when I was under 10. Whatever was in the charts at that time.
RJ: What do you get up to in your down time?
K: Spend a lot of time on tour these days so when I get home I like to have time with friends and have home cooked meals! And listen to albums I haven't had a chance to yet.
RJ: What's next for Kwabs? What should we expect to see for the rest of 2015?
K: The next thing is the album. First things first. And I can't wait for people to finally hear it in September. And then tour; I'm going to be touring the UK, and, further than that. And then there are a few more exciting things that are yet to be revealed but I'm going to be traveling a lot. That's all I'll say for now!
RJ: Are you a fan of boohooMAN?
K: boohooMAN's great! I've tried the stuff on, it looks cool, and it fits! I think that's the most important thing that it fits! And the designs are really cool, yeah; I think you've got a good thing here.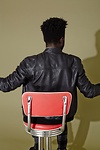 Watch here >